Currently we also offer our customers production of prototype amounts of single, double and multilayer flexible printed circuits. The basic material for production is single or doublesided Kapton (polyimide). The circuit may even be equipped with a non-soldering kapton mask (coverlay) or green ( or amber ) flex solder mask. The conector stiffener is used to fortify some parts of the flexible parts, such as the heavier components or connectors and is made ​​of standard FR4 ​​material, but may be in agreement, another. The boards are delivered either individually, in a panel with routed outline on bridges or without final working. Please consult the production data, the manner of design, the price and the delivery date with the technician of the order reception.
When realizing a design of a flexible printed circuit, it is necessary to follow some specific rules:
- use teadrop pads as ending of tracks
- change of the course of the conductor path must not be formed by sharp edges
- surface finishes is only chemical golding or immersion tin plating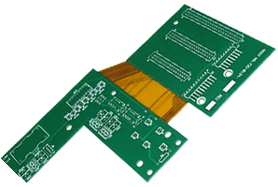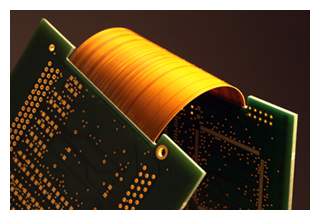 Technologie FLEX-RIGID, as implies from the name, combines using flexible and rigid printed circuits. This technology offers possibility of reliable interconnection of parts of the device and even though it is more costly, it may significantly reduce the total price of the product. It substitutes sometimes very expensive connectors and it shortens the time needed for fitting, testing and overall installation of the device. One of other advantages is easier installation, tastefulness, saving of space and preserving unified electrical characteristics. It is also used in places of movement or bending of some parts of the device – printers, drawing plotters....
Creation of the data for the production of printed circuits of the technologies FLEX-RIGID follows the rules of dual or multi-layered PCB. You will find the rules for the flexible part on an individual page dedicated to flexible printed circuits. Please consult production data, delivery dates and prices with the technician or technologist of the order reception.